Academics
Academics at Interagency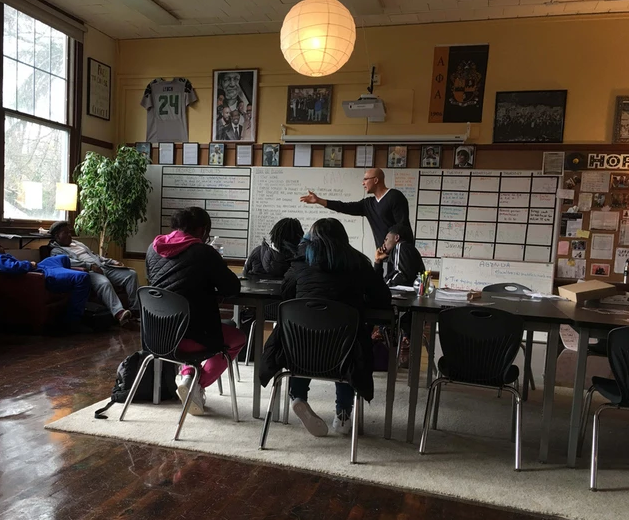 Language Arts
The language arts classes use the same curriculum across Interagency Academy. We offer direct instruction, process based reading and writing workshop. We use Teachers College Reading and Writing Workshop high school curriculum. Many of our teachers have attended Reading and Writing Institutes at Columbia University in New York City, as well as in Seattle.
---
Math
The math classes use the same curriculum across Interagency Academy. We offer direct instruction algebra and geometry, as well as offer a variety of interventions for student who may need extra support.
---
Online Learning
Interagency offers students the opportunity to take classes (other than math and language arts) with Odysseyware, an accredited online school. Students will work on these classes at school, and are strongly encouraged to complete as much course-work outside of school as possible.
---
Culturally Responsive Teaching
We have changed the way we support African American male students andhow we teach American history at 2 Interagency campuses using what welearned from Oakland's African American Male Achievement (AAMA) program, which has created structures and spaces that aim to guarantee successfor all African American male students in Oakland. The ManhoodDevelopment Course, the cornerstone of the program and also called"Mastering Our Cultural Identity: African American Male Image," helpsstudents identify the negative cultural stereotypes and expectations forblack men and boys that wreak havoc on self-image. The course takes adeep dive into African-American history and culture, from ancientcivilizations to the civil rights movement to contemporary media.
Career and Technical Education (CTE)
CTE at Interagency provides project based curriculum where students explore foundation skills and career pathways in manufacturing, building trades, and horticulture. We offer a Building Traders Pre-Apprenticeship Program. Students can participate in Job Readiness Training(JRT) programs in culinary, construction, market garden, bike mechanics, and screen printing. Learn more on our Career Connected Learning page.